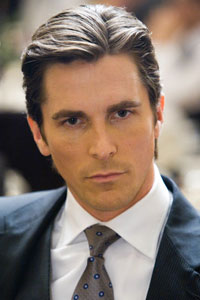 Date of Birth: January 30, 1974
Christian Bale was born in Pembrokeshire, Wales, but later moved to England. He caught the acting bug early in life, and by the age of ten was already appearing in a West End production of The Nerd. Television work soon followed, but it was in 1987's Empire of the Sun that he first made his mark worldwide. Although Empire did not live up to expectations, critics were impressed by the very young Bale's performance in Steven Spielberg's story of a young British lad who is separated from his parents in Japan-occupied China during World War II.
In 1992, Bale had a starring role in Disney's Newsies. In an attempt to revive the movie musical, he was called on to sing and dance in the story of a group of striking newsboys in 1899 who take on Joseph Pulitzer and William Randolph Hearst. It was an utter failure, and Newsies quickly disappeared from theaters. On the Internet however, the film found a second life as a cult classic with young girls.
Next came Swing Kids, the story of carefree German boys with a love of dancing who are caught up in the Second World War and forced to become Nazis. The compelling story impressed critics, even if it was not commercially successful. A role in Little Women, for which Winona Ryder received an Oscar nomination, capped off Bale's trilogy of youth flicks.
Since then he has worked steadily in both independent films and major motion pictures, including with Nicole Kidman in The Portrait of a Lady and Ewan McGregor in Velvet Goldmine. Bale's name was in the press due to his on-again, off-again role in the much anticipated adaptation of the controversial book American Psycho. The role was originally offered to Bale, then reneged when a post-Titanic Leonardo DiCaprio expressed an interest. However, when DiCaprio eventually passed, the role once more went to Bale.
He has since appeared in films such as Captain Corelli's Mandolin, Reign of Fire and The Machinist, and won the coveted title role in Batman Begins (2005), for which he received a 2006 MTV Movie Award as Best Hero. In 2011 he won both an Academy Award and a Golden Globe for his work in the critically-acclaimed motion picture The Fighter (2010), opposite Mark Wahlberg.
Bale enjoys reading and horseback riding in his spare time. A vegetarian since the age of six, he met his wife, Sibi Blazic, when she was working as Winona Ryder's personal assistant. They married in 2000 and their first child, a daughter, was was born in 2005.