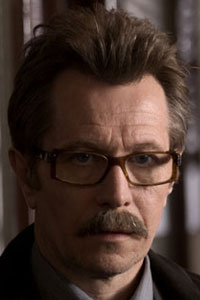 Date of Birth: March 21, 1958
Gary Oldman's perceptions of life were skewed at an early age when his father, an alcoholic welder, left home one day when Oldman was only seven years old never to return again. His childhood memories are of a drab working class area of South London called New Cross that he called home and a brutal boys' school where he was sent to learn his ABCs.
Oldman was going nowhere fast, supporting himself as a sales clerk in a sporting goods shop when he was accepted into the Greenwich Young People's Theatre, which led to a scholarship to study acting at the Rose Buford College of Speech and Drama. His acting skills soon saw him taking to the British stage and he scored a 10-out-of-10 performance in only his third film, Sid and Nancy, in which he played punk rock star Sid Vicious to perfection.
He went on to give blistering performances in Prick up Your Ears (1987), Rosencratz and Guildenstern Are Dead (1990), JFK (1991) and Dracula (1992), for which he won a Saturn award as Best Actor.
In 1997, Oldman put his childhood memories on screen when he wrote and directed Nil by Mouth, a bleak, semi-autobiographical drama about a dysfunctional blue-collar London family that Oldman dedicated to his late father. The film proved to be a controversial hit at that year's Cannes Festival, and the first-time director won a number of international awards and a new dose of respect for his work. He subsequently returned to acting with Luc Besson's The Fifth Element that same year.
More recently, he's been recognized for his acting in the feature film The Contender (2000), earning a Screen Actors Guild nomination, and sharing an Alan J. Pakula Award from the Broadcast Film Critics Association with the rest of the cast. His guest appearance on the sitcom Friends earned him his first Emmy nomination in 2001. In Harry Potter and The Prisoner of Azkaban (2004), Oldman took on the key role of Sirius Black, reprising his role as Harry's godfather in Harry Potter and the Goblet of Fire (2005), Harry Potter and the Order of the Phoenix (2007) and Harry Potter and the Deathly Hallows: Part 2 (2011). In 2012, Oldman received his first Academy Award nomination for his work in Tinker Tailor Soldier Spy in the Leading Actor category.
Often plagued by personal problems off stage, he says, "Talent is very attractive….I think it's the biggest aphrodisiac going." It was also very alluring to Uma Thurman whom Oldman married in 1990 while Thurman was still a teenager but the two have long since gone their separate ways. Since then, Oldman has married (in 1997) and divorced (in 2001) Donya Fiorentino, with whom he shares two children. He also has a child with his first wife, Lesley Manville. On New Year's Eve 2008, he wed his fourth wife, jazz singer Alexandra Edenborough.