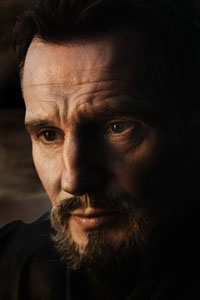 Birth Name: William John Neeson
Date of Birth: June 7, 1952
If you've ever got the impression that Liam Neeson, a native son of Ballymena, Northern Ireland, was about to box someone's ears off, there's good reason for it. As a young lad, Neeson was a Northern Ireland boxing champ before turning his rather large hands to forklift operating, truck driving and a stint as an assistant architect. Then acting came calling and Liam answered the bell.
The impetus to his thespian career was an advertisement posted by the Lyric Players' Theatre in Belfast stating their need for a tall man to perform a bit part. At 6'4″ he fit the bill perfectly. Neeson ended up staying with the company for two years before being discovered by director John Boorman who cast him as Sir Gawain in 1981's Excalbur. He moved on to play a variety of film roles, perhaps most notably the dark hero of Darkman, before fame scored a technical knockout over the actor when he was cast as the title character in Steven Spielberg's Schindler's List. The role netted him an Oscar nomination and a Golden Globe nomination. In 1997, he received his second Golden Globe nomination, for playing the title role in Michael Collins (1996).
In 2000, Neeson ended up in a motorcycle accident that nearly took his life. Left with a broken pelvis, he wasn't able to do much in the way of acting for a while. To keep working, Neeson spent the time doing voice work for television and film. He got back to work in 2001 when he filmed films like K-19: The Widowmaker and Gangs of New York (both 2002). In 2005, he received his third Golden Globe nomination for playing the title role in Kinsey (2004). Neeson has also appeared in several big blockbusters over the past few years including the role of Hannibal in The A-Team (2010), the voice of Aslan in The Chronicles of Narnia: The Voyage of the Dawn Treader (2010), and the lead character in Unknown (2011) and The Grey (2012).
Neeson was married to actress Natasha Richardson (daughter of actress Vanessa Redgrave) who once said about her husband: "I think he probably wakes up every morning thinking, 'Isn't it great I'm not driving a forklift truck?'" Unfortunately, Ms. Richardson passed away on March 18, 2009, after suffering a serious head trauma from a fall while skiing. Neeson currently lives in New York City with their two sons and is reportedly engaged to his French girlfried Freya St. Johnston.