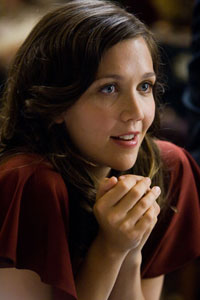 Date of Birth: November 16, 1977
The daughter of director Stephen Gyllenhaal and screenwriter Naomi Forner, Maggie Gyllenhaal was born in Los Angeles. She made her feature film debut at the age of 14, in Waterland (1992), directed by her father. Over the next six years she would appear in four more productions directed by her father. In 1999, she landed a role in the mini-series Shake, Rattle and Roll.
Her performance as Raven, a Satan-worshipping make-up artist in John Waters' quirky Hollywood satire, Cecil B. DeMented (2000) led her to a co-starring role in Donnie Darko (2001), a fantasy-thriller about disturbed adolescence. The film was executive-produced by Drew Barrymore, and Gyllenhaal next landed a small role in Riding in Cars with Boys, starring Barrymore. She followed that up with a small role in 40 Days and 40 Nights, starring Josh Hartnett.
In 2002, Gyllenhall landed a starring role in the feature film Secretary. While filming Secretary, she was simultaneously shooting a supporting role in Spike Jonze's Adaptation (2002). Finally hitting the big time, Gyllenhaal next filmed Mona Lisa Smile (2003), starring alongside Julia Roberts and Julia Stiles. She received her first Academy Award nomination for her work in the 2009 movie Crazy Heart, co-starring Jeff Bridges.
Gyllenhaal has also appeared onstage in Closer at the Mark Taper Forum in Los Angeles and in Antony and Cleopatra at the Vanborough Theatre in London. Gyllenhaal is a 1999 graduate of Columbia University where she studied Literature and Eastern Religion. Her brother is actor Jake Gyllenhaal.
On May 2, 2009, she married actor Peter Sarsgaard, with whom she has a daughter.