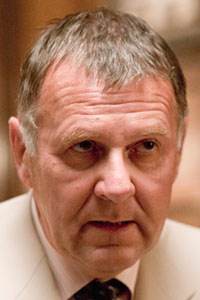 Date of Birth: December 12, 1948
A popular British character actor, Tom Wilkinson specializes in playing men suffering from some sort of emotional repression and/or pretensions of societal grandeur.
A renowned stage actor in England, Wilkinson has performed with such prestigious companies as The National Theatre, The Royal Shakespeare Company and The Oxford Playhouse. His stage work includes title roles in Peer Gynt, Brand and Henry V among many others. His U.K. television credits include Prime Suspect and Martin Chuzzlewit.
Wilkinson made his film debut in Andrjez Wajda's The Shadow Line (1976), and his early films include David Hare's Wetherby and Sylvia (both 1985).
Having landed roles in films and television that garnered him little public notice, Wilkinson hoped to get a chance in the spotlight. "A couple of years ago, I started saying to friends that I hoped I would eventually be in a big hit movie and that I could go to America and do a few movies there."
Active in film and television since the mid-'70s, Wilkinson became familiar to an international audience in 1997 with his role as one of six unemployed workers who strip for cash in Peter Catteneo's enormously successful comedy The Full Monty. "When I said yes to The Full Monty I had no inkling of what it would end up doing. It literally turned into a phenomenon."
After filming The Full Monty, Wilkinson landed a role in the American martial arts film, Rush Hour with Jackie Chan. "I thought it would be the end of my career but I took the part anyway so I could at least say I'd done an American film."
Although the action flick turned out to be mediocre at the box office, Monty became a hit and Wilkinson suddenly became one of the busiest actors in Britain and the United States. His performance as Gerald in the Academy Award-nominated comedy garnered him a BAFTA Award nomination for Best Supporting Actor. The following year, he won kudos and a BAFTA Award nomination for Best Supporting Actor for his portrayal of Fennyman in John Madden's Academy Award-winning Shakespeare in Love.
Wilkinson appeared in Ang Lee's Civil War drama Ride with the Devil opposite Tobey Maguire, Skeet Ulrich and Jewel. It marked Wilkinson's second film with Lee; he played Mr. Dashwood in the director's 1995 film Sense & Sensibility opposite Emma Thompson.
In 2000, Wilkinson continued to grace the screen in films such as Mel Gibson's The Patriot and the comic feature The Black Knight.
Although the British Acadamy Awards (BAFTA) have recognized Wilkinson's talent for many years, honoring him with a number of nominations and awards, the Oscars took until 2002 to give him his first nomination. He earned a Best Actor nomination for his work in In the Bedroom (2001). He was nominated for both an Emmy and a Golden Globe for his performance in the HBO TV movie Normal (2003). In 2008, Wilkinson won his first Golden Globe, for his role in John Adams.
Wilkinson has two daughters with his wife, actress Diana Hardcastle.